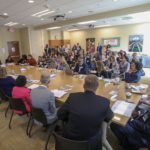 For Immediate Release
SAINT PAUL, MINN. — On August 21, 2019, Minnesota Governor Walz and Lieutenant Governor Flanagan assisted Minnesota Community Care and the Minnesota Association of Community Health Centers (MNACHC) in igniting a year-long conversation series "Partnering for the Health of Minnesotans." Last week'sprelude Roundtable opened with an address by Deputy Chief Attorney General John Keller, the Governor and Lieutenant Governor, and Minnesota Community Care's CEO, Reuben Moore, who focused participants' hearts and minds on the people of Minnesota most deeply affected by health disparities.
Health care industry and community health center leaders from across the state readily responded to a call to participate in the Roundtable: Allina, Mayo Clinic, MHealth/Fairview, UCare, United Health Care, Blue Cross Blue Shield, HealthPartners, Medica, Regions Hospital, Hennepin Health, and five federally qualified health centers: Minnesota Community Care, Indian Health Board, NorthPoint Health & Wellness, Neighborhood HealthSource, and Community Health Services Inc.
In his heartfelt welcome, Reuben Moore offered the perspective of his own start to life as a child whose family depended upon housing in shelters and care at community health centers. Lieutenant Governor Flanagan acknowledged his rise as a health care industry leader after a start as a Children's Defense Fund Beat the Odds scholar. Moore challenged the group, "We work in a fragmented health care system that does not meet the needs of all low-income Minnesotans." Governor Tim Walz opened the conversation with the question, "How has your organization addressed social determinants of health or equity and how will collaboration take it further?"
Paige Anderson Bowen, Minnesota Community Care's Chief Advancement Officer, launched the conversation by offering examples of medical and mental health care access points embedded in communities: Minnesota Community Care operates clinics in shelters, public housing units, libraries, and schools. "We go to the people who need us most, regardless of income, insurance, or immigration status. Over our 50 year history as a community health center we've learned that we need to go outside the four walls of our clinic to have the greatest impact on health equity."
All in attendance agreed that industry cohesion, a comprehensive plan, data sharing, and starting small has the promise to drive success in amplifying health equity solutions for our state.
All involved recognize the alignment between our goals to address health equity and the Governor's approach to health, education, and prosperity of Minnesotans.