School Based Health Centers
Patient Registration Forms
English – Click Here       Español – Click Here
WE ARE OPEN!
Your care is covered!
We accept all health insurances and turn no one away for their ability to pay. You can register for health insurance benefits MNSure Coverage Click Here or call us – we can help with that too!
651-412-8445 (call line is open 9-4, M-F)
Our hours have changed during distance learning. We have in-person care and telehealth (phone or zoom) available. CLICK HERE FOR DETAILS.
School Based Health Centers are part of Minnesota Community Care, a private, nonprofit community clinic. We provide integrated wellness care imbedded in schools. Our students have access to mental health support, medical care, health education, and fitness/nutrition counseling.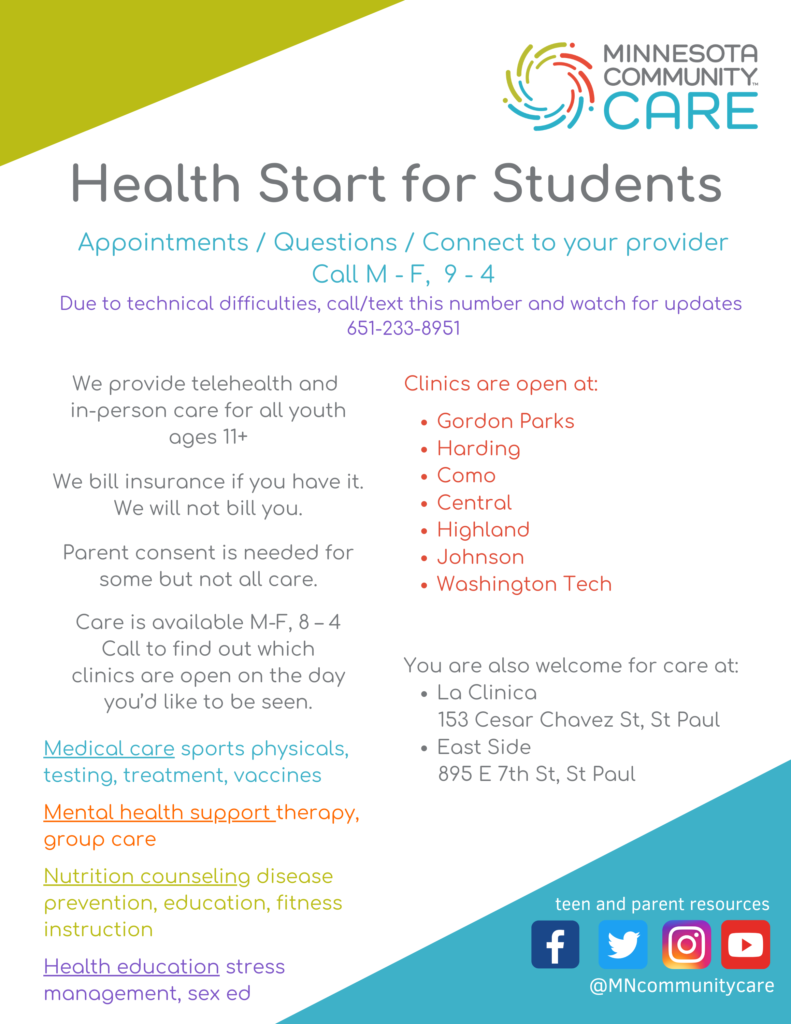 Locations
AGAPE CLINIC
(651) 632-2189
1037 University Avenue
Saint Paul, MN 55104
Directions
Mon, Tue, Fri: 8am – 4pm
Wed – Thu: Closed
CENTRAL CLINIC
(651) 632-2194
275 North Lexington Parkway
Saint Paul, MN 55104
Directions
Mon – Fri: 8am – 4pm
COMO PARK CLINIC
(651) 487-8539
740 West Rose Avenue
Saint Paul, MN 55117
Directions
Mon – Fri: 8am – 4pm
CREATIVE ARTS CLINIC
Mental Health Care and Health Education
651-292-3480
65 E Kellogg Blvd
St Paul, MN 55101
Directions
Mon – Fri: 8am – 4pm
GORDON PARKS CLINIC
open to the public for all youth ages 12-21
(651) 793-2234
1212 University Avenue
Saint Paul, MN 55104
Directions
Mon – Thu: 8am – 4pm
Fri – Sun: Closed
HARDING CLINIC
(651) 778-2884
1540 East 6th Street
Saint Paul, MN 55106
Directions
Mon – Fri: 8am – 4pm
HIGHLAND PARK JUNIOR/SENIOR HIGH CLINIC
(651) 690-7667
1015 Snelling Avenue South
Saint Paul, MN 55116
Directions
Mon – Fri: 8am – 4pm
HUMBOLDT JUNIOR/SENIOR HIGH AND OWL
(651) 312-1996
30 East Baker Street
Saint Paul, MN 55107
Directions
Mon – Fri: 8am – 4pm
JOHNSON CLINIC
(651) 778-2889
1349 Arcade Street
Saint Paul, MN 55106
Directions
Mon – Fri: 8am – 4pm
WASHINGTON TECH JUNION/SENIOR CLINIC
(651) 487-8531
1495 Rice Street
Saint Paul, MN 55117
Directions
Mon – Fri: 8am – 4pm
School Based Health Centers – Wellness Providers
Medical Providers
Abbe Penziner-Bokde, MD
Cathy Priess-Perrott, CNM
Gail Turnberg, PNP
Maureen Beckerle, PA-C
Therapist
Amy Froiland-Parada, LICSW
Honey Moua, LGSW
Isette Pierre, LMFT
Jonathan Oppenheimer, LGSW
Leah Martin, LGSW
Marie Thompson, LMFT
Milan Ramsey, LGSW
Rachel Litecky, LICSW
Dietitians and Health Educators
Heidi Huelster, HE
Jade Burt, M.Ed.
Jennifer Marshall, MPH
Katie Meaux, RD
Sandy Naughton
---